External Environment - PESTLE
Before you decide a strategy for your organisation, you need to know how your external environment affects everyone in your industry.
PESTLE Analysis helps you to understand the 'bigger picture' and identify opportunities and threats that you need to be prepared for. You can take advantage of the opportunities and minimise the threats.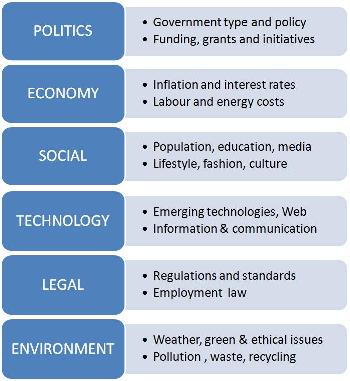 PESTLE is short for for Political, Economic, Social, Technological, Legal and Environmental.
These headings are used to brainstorm the character and trends of a country or region and evaluate the drivers that will affect each industry.
Click here for a fun example of how PESTLE works.
Once you have brainstormed the economic and environmental trends in your region, you can use the information in a SWOT analysis - Strengths, Weaknesses, Opportunities and Threats.
Many of your opportunities and Threats will be the result of any potential impact from the external environment. Be aware of both short-term and long-term opportunities threats.
What is your interest in PESTLE Analysis? << Click Here >> to see if I can offer further help.