Marketing Mix
Marketing Mix is a term coined by James Culliton, who in 1948 described the role of the marketing manager as a "mixer of ingredients" because he mixes together the 4Ps of product, price, promotion and place. Everything we want to sell will need a slightly different mix of these ingredients, depending on the type of product, the target audience and the market.
• Products are the goods and services – their specification and quality.
• Price is what the customer pays for your product – maybe it is discounted from the list price, or perhaps credit is available, or a discount for quantity. Prices may be seasonal (like holidays).
• Place is the method used to get your product or service to the customer. This could be a retail outlet, a website, or a sales representative.
• Promotion is the how you get the message to the customer - this includes publicity, advertising, and direct selling.

Things have moved on since 1948. The 4 Ps are about marketing from the supplier's point of view rather than from the customer perspective. In today's competitive market, the customer is in charge because they have more choice – so they are looking for best value.

Focus on customers ~~~~~~ what added value do you give them? ~~~~~~ Why should they buy from you?

Define the processes – how will you deliver added value to your customers?

Develop a brand so customers know what you are promising to deliver

Consider the "4 C's" and your brand will stand-out from the crowd

Download the

SalesPOINT

selling skills presentation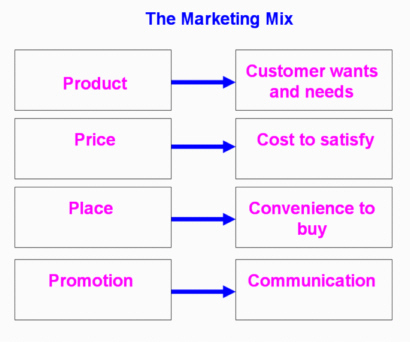 Consumer wants and needs (vs. Products)
You can't develop products and then try to sell them to a mass market. You have to study consumer wants and needs and then attract consumers one by one with something each one wants.
Learn more about customer wants and needs....

Cost to satisfy (vs. Price)
You have to realise that price - what you sell the product for - is only one part of the cost to satisfy. If you sell meals, for example, you have to consider the cost of driving to your restaurant - what if you provided a delivery service? Pricing is one of the most difficult decisions to make - selling at the lowest price is not always the best option. If you rely strictly on price to compete you are more vulnerable to competition.

Convenience to buy (vs. Place)
You must think of convenience to buy instead of place. You have to know how each subset of the market prefers to buy - on the Internet, from a catalogue, on the phone, using credit cards, etc. Amazon Books and Dell Computers are just a few businesses who do very well over the Internet.

Communication (vs. Promotion)
You have to consider communication instead of promotion. Promotion is manipulative - it's a statement from the seller. Communication requires a give and take between the buyer and seller - This is much more subtle. Be creative and you can make any advertising "interactive". Use phone numbers, your web site address, etc. to help here. "Orange Wednesday" is a good example.

Developing a brand takes into account these considerations. Developing a brand is developing a promise. When you take into consideration the "4 C's" noted above you begin the process of Developing a Brand !