Vision & Values
Does your organisation have a clear purpose and vision which is shared?
A Vision:
helps your people to be clear about the long term future.
keeps the organisation focused in the same direction.
gives your people a reason why certain things have to happen.
it is the big picture for the organisation.
How to Create a Vision:
Question 1 - Where do you want your organisation to be in the long term future? Long term can be one year, three years, five years – whatever you feel is right (it depends on how fast things are changing).
Question 2 - What do you want customers and anyone who hears about your organisation to say about it?
Question 3 - What are the key principles or values that will guide your organisation to achieve your vision?
Your people will have some interesting ideas on these questions. Think about involving them in the process.
For example you could put your people into groups of no more than 5:
Ask them to take a piece of flipchart paper and as a group split it into three.
Ask them to write down the words that they want people to say about the organisation, then to devise a picture/visual for the organisation and finally a slogan for the organisation
Give them 10 minutes to do this
Then get the whole group to vote on which words they like the best, slogan and visual. Put these on one sheet of paper and use this as your Vision & Values.

Click << Here >> to download a template for your Vision and Values: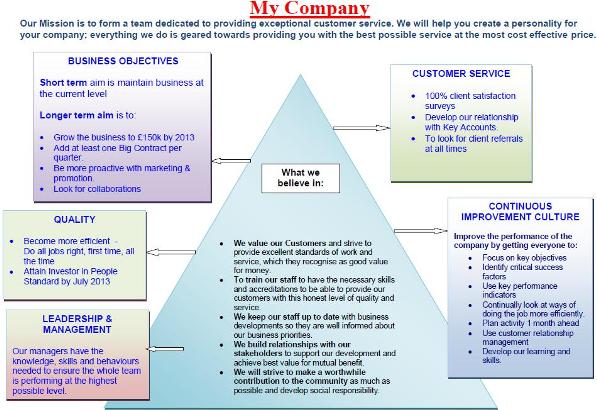 What is your interest in Vision & Values? << Click Here >> to see if I can offer further help.
Share your vision with everyone – make sure it's visible – here's how you can use your 1 page business plan:
Poster on the back of doors
Screensavers
Payslips
Notice boards
People handbooks
Stationery
Forms and records
Stickers
Newsletters
Website
Your Business Plan.