Cost, Time, Scope in Project Management
Project management is the planning, monitoring and control of all aspects of a project and the motivation of all those involved to achieve the project objectives on time and to the specified cost, quality and performance.
Click here to download project management templates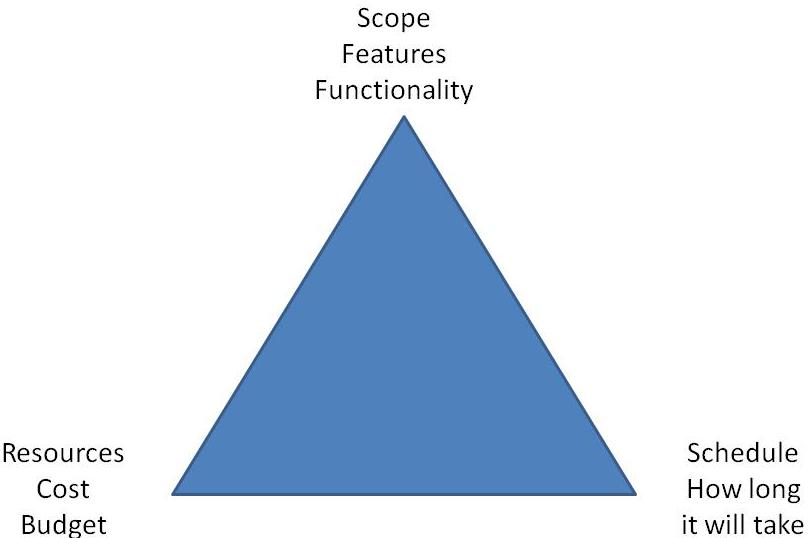 The iron triangle as a way to explain the relationship between time, cost, and scope. If you change one of the three variables, the laws of project management say that one of the others has to change too. For example,
If you want to add scope, time or cost has to go up as well.
If you want to deliver in less time, you either need more budget or you need to reduce the scope.
If you want a less expensive product, you either need to reduce scope or reduce the time it takes to complete the project.

The iron triangle is a great tool to take to business meetings when hard decisions have to be made because it provides a framework, i.e., "here are the variables you must consider, but you can't change one with out affecting the others".
A classic example of using time, cost, and scope as a measure of a successful project is the Sydney Opera House, which went 16 times over budget and was 4 times more expensive to finish than originally planned. But the project was a big success for the people of Australia and at the same time a big failure from the project management point of view. But nobody remember the missed objectives.
On the other hand, the Millennium Dome in London was a project completed on time and on budget - but in the eyes of the British people was considered a failure because it didn't deliver the awe and glamour that it was supposed to generate.
What is your interest in Project Management? << Click Here >> to see if I can offer further help.