Turning Strategy into Action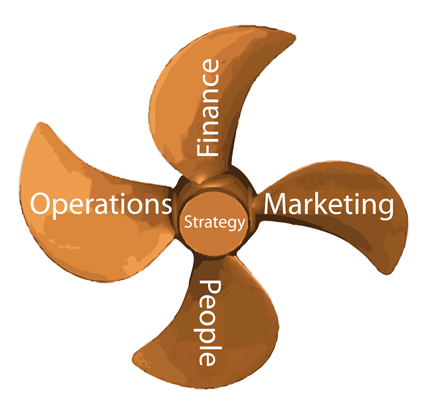 Everybody talks about improved performance but not many organisations can "walk the talk" and turn strategy into results.
According to a recent study only 1 in 3 organisations carry out their plans successfully. But what makes the difference between success and failure? If we knew the answer we could use performance management to drive faster growth and superior profits.
Performance Management can be used in both large and small organisations. Here are the top ten tips for success:
1. Develop a strategy that combines internal and external factors of the organisation, your financial position and your customer requirements - both now and in the future. click << HERE >> for a benchmark survey to see how your company compares.
2. Use your strategy to drive both the financial and non-financial performance of the business.
3. Engage and develop skilled, flexible and responsive people to recognise their role in the success of that strategy.
4. Focus on the few things that truly impact on your business. Measure what matters.
5. Involve as many people as possible, at all levels, to put the measures together.
6. Ensure people can clearly see, understand and connect their own day-to-day activities to the achievement of the strategy.
7. Establish a clear framework to work within, and then ask the same questions at each level of the organisation. "What are the measures telling us and what do they mean?"
8. Empower people at the operational level to manage the area of the business that best suits their skills and experience.
9. Allow people working at tactical level to focus on the organisational systems and procedures.
10. Let people who manage the longer-term direction of the business have the freedom to do so without constantly being called upon to resolve operational issues.
Find out more about our new performance management tool: PropellerTM is a unique management tool that helps to balance financial and non financial objectives. It shows the critical success factors for your organisation in four key areas; people, operations, customers and finance and whether goals are being met. PropellerTM is a communication tool that takes the key indicators from across the organisation and lets everyone know if they are on target. It links objectives, initiatives and measurements to the implementation of the overall strategy. PropellerTM is a framework that helps profit and non-profit organisations translate strategy into activities that improve leadership, culture and performance.