Strategy Map
A strategy map is a visual representation of how the activities of your organisation help to achieve it's vision, mission and objectives.
For a commercial business, the strategy map illustrates its long-term vision. Typically this might be:
Increased turnover
Increased profit
More motivated and productive staff
A happier, less stressed management team

Consultants Online can facilitate a workshop for your senior management team, and in just a few hours they should all agree on the actions necessary to achieve the "Destination Statement" for your firm.
Click Here for information on how to develop a Srategy Map for Your Organisation
Every situation is different, but here's an example of a strategy map: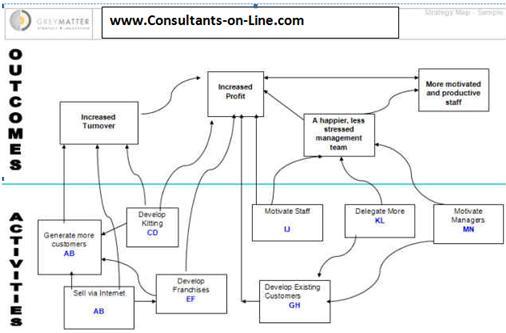 This half-day workshop helps your senior team agree the strategy and actions needed to develop the business.
The process involves 7 steps:
1. Company Goals and Definitions of Success
2. Building Consensus
3. Setting Objectives for the Medium Term
4. Strategy Map
5. Assigning the Objectives
6. Defining the Objectives
7. Performance Management
A representative group from your key staff members should be involved - The workshop is both fun and enlightening.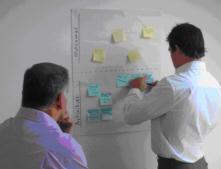 For a Case Study of how this tool was used << click here >>